The Pennsylvania RV & Camping Show debuted in 1968 In Hershey, PA. Fast forward nearly 50 years and it has become the Nations largest RV show of it's kind. With over 21 acres of RVs on display you will be able to experience hundreds of RV brands. It's so large you will need at least three days to experience it all, if not more. The show is set up by manufacturer rather than dealer, making it the easiest way to shop and compare the many RV brands available. 
Some of the brands you'll have the opportunity of seeing at the show are the one of a kind Airstream Travel Trailers along with T@B by Little Guy, Gulf Stream and Cruiser RV's. If you like what you see, head on over next door to the fastest growing RV dealership in Ohio, Haydocy Airstream & RV located in Columbus, OH. Upon arrival you'll have the opportunity to enjoy the smoking hot bbq from our renovated 1963 Airstream Land Yacht Travel Trailer, The Fabulous Land Yacht BBQ. Haydocy is also the largest T@B dealer in the Mid-west. 
Aside from the hundreds of RV's that you'll have the opportunity to explore, you can also take part in several seminars that will be available over the duration of the show. For a full list and schedule of times click here. Hot food and cold beverages will be made available from Boulevard Cafe, Hat Trick Cafe, Hot Shots Cafe and The Marketplace.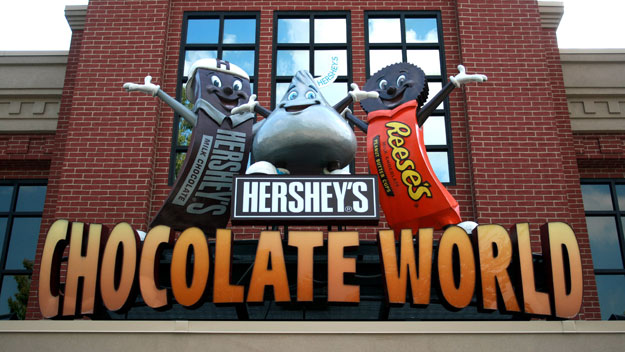 The Pennsylvania RV & Camping Show is set right in the heart of
The Sweetest Place on Earth
.
While in town
, you cannot miss out on
Hershey's Chocolate World
! Your sweet tooth will thank you! The young and young at heart can take part in the journey of a candy bar from start to finish, see
Milton Hershey's estate
,
tour the campus
 and even take home your very own Hershey bar!
Hershey Park
is also opened for the weekend, Sept. 13th & 14th. 
If you're planning on camping out during the show, you will be able to do so at the
Hershey Park Camping Resort
. Although mans best friend is not able to attend the show, you'll be able to take them to
Dad's Pet Care Barking Lot
located just outside the park under the west end of
Hershey Park Stadium
.